Embed EDI Everywhere
Help your EDI Champions to be part of history. The global workspace revolution is here and now is the moment to join it.
Our popular entry-level EDI Champion programme is for everyone. Whether team player, manager or senior Exec, we help EDI Champions to harness their skills and passion and ignite change.​
Guiding EDI Champions to find purpose, we support them to align with EDI objectives and mitigate risks and pitfalls along the way.
Working with Radius, they'll become part of an exciting, global movement that's transforming organisations around the world into truly representative workspaces.
EDI Champions Programme
Winter cohort November
£545
per delegate
Book now
Package Prices on Request
Our content can be adapted in-house to suit any specific need or audience. Get in touch.
EDI Champions
Our unique programme gives you everything you need to be a powerful advocate for change. Working with experts and peers from around the world you'll learn why EDI matters and what it looks like in business.
From recruitment to retention you'll gain an understanding of EDI in action and learn about the practices that bring it to life. You'll also challenge your own behaviour by exploring stereotypes, micro-aggressions and bias.
And, you'll discover how to make an even greater impact in partnership with employee networks and EDI stakeholders.
Click right for course details
EDI Champions will:
Develop skills to be an effective EDI Champion

Be equipped to promote positive change

Create an action plan, aligned to organisational objectives

Understand EDI policies, legislation and practices

Explore the history and context of EDI

Build better self-awareness

Establish themselves as a future leader

Connect with peers from around the world
Course information
A mix of self-paced and online live learning

6 bite sized modules

60 mins per module (over 6 weeks)

On-demand content available for 25 weeks

Live expert Q&As and peer network sessions

6 CPD points certificate plus graduation pack
Flexible, self-paced learning
Learn at your own pace. Our digital first programmes fit easily around the demands of life. With a flexible, self-paced learning approach you can complete each module in your own time.
Everything is available online, so if you miss a live session you can easily catch up later. We know that you might want to revisit things, so all programme content is available for an extended period.
Discover a new way of EDI learning with Radius. Flexible and self-paced, with extended access and live expert support, every step of the way.
Planning your journey and goals
(live session + recording)
Your influence as a Champion
Turn passion into action
Understanding your EDI strategy
Planning your journey and goals
Introduction to EDI

(pre-recorded module)
Why does EDI matter?
EDI in business
EDI terminology – equality vs equity etc.
Exploring microagressions
The EDI Business Case

(pre-recorded module)
Embedding EDI in your organisation
Defining your role & measuring impact
Managing difficult conversations
Aligning with EDI objectives
Building business buy in
EDI in Action

(pre-recorded module)
EDI in recruitment and retention
EDI data handling
Be a role model and agent for change
The innovative champion
Risks and pitfalls
Action Planning & Networking
(live session + recording)
Discuss and plan ahead with other EDI Champions
What's the right EDI approach for your organisation?
How can you boost employee engagement?
Develop your role as an EDI Champion
Create an action plan and timeline
The Power of Employee Networks
(pre-recorded module)
The power and influence of networks
How do EDI communities become employee networks?
Leading and working with networks
The network revolution – ignite change
"Our EDI Champions found the programme extremely useful and gave some great feedback. It harnessed their passion to make a positive impact in a more structured way."
National Highways, EDI Director
Programme Resources
We know that everyone has their own learning style. So our programmes are supported by a diverse range of interactive materials, tools and resources.
Toolkits
Our toolkits and workbooks provide a clear framework to record learning, plan objectives and track progress.
Case Studies
Case studies from around the world provide real-life examples of champions
in action.
Interviews
Interviews and lectures from industry experts, thought leaders and our graduates bring learning to life.
Research
Our research and external leading data helps champions to build an influential business case
Module Quiz
A fun interactive quiz at the end of each module checks learning and understanding.
Further Reading
Our modules signpost additional reading, allowing champions to deep-dive into topics that interest them most.
Language options
Learning platform and course transcripts available in multiple languages Powered by RecitMe.com
Your EDI Ecosystem
Our EDI Champions Programme drives change from the ground up – helping everyone who is passionate about EDI to play their part and ignite change in every part of the business.
Helping Champions to align with organisational objectives and goals, it gives them the tools and confidence to define purpose, support wellbeing, embed inclusion and innovate.
The programme also supports the wider EDI ecosystem, by connecting Champions with EDI teams, networks, Exec Sponsors, HR leads and councils.
Joining the dots right across a business, it brings together everyone with an interest and investment in EDI to deliver powerful, aligned action and build workspaces where everyone feels they belong.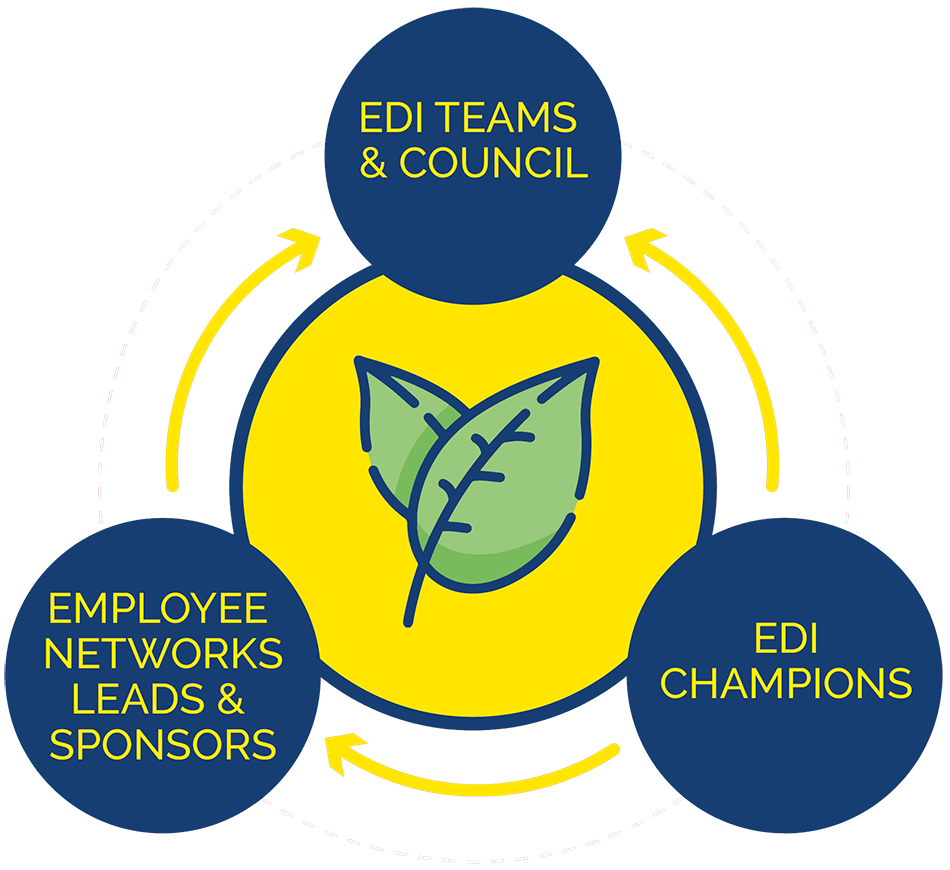 Accessible Everywhere
A world map showing the locations of radius.